Encore un top ? Et oui, c'est la saison, tout le monde (ou presque) s'y met, que ce soit pour le ciné, la musique, la littérature (mais aussi les restaurants avec les meilleures tables, ou les meilleurs jeux, etc). Après la 1ère partie des albums de l'année et la 2ème qui suivit également, voici le top des pochettes d'albums de 2013. Non pas un énième top, mais un top consacré  à une partie clairement visuelle.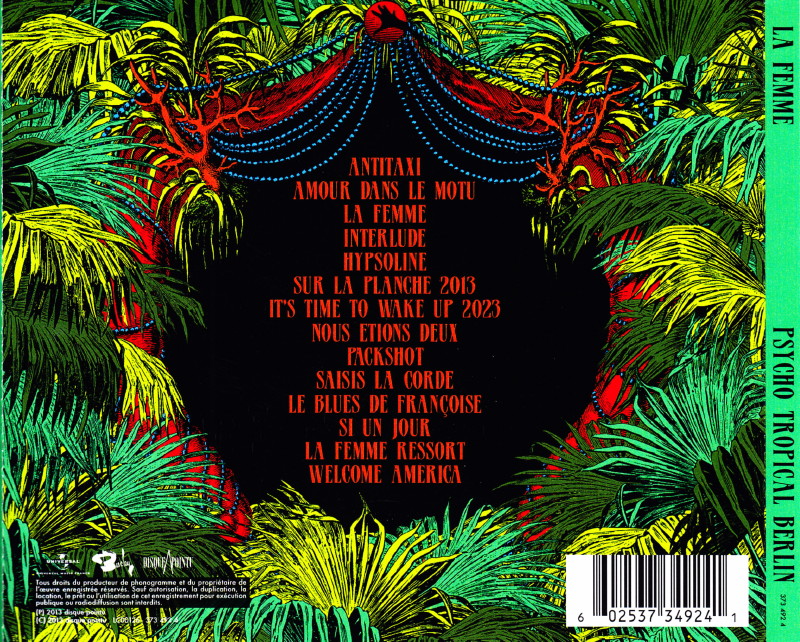 La pochette d'album est parfois l'occasion pour un artiste de se surpasser, de créer un mini univers, et surtout, cela donne parfois envie d'acheter (pas forcément au prix neuf je vous l'accorde) un album sur la seule foi de ce visuel -si important à mes yeux-. Ainsi, certaines pochettes frôlent l'œuvre d'art (rappelons-nous de celle de Sergent Pepper) quand d'autres au contraire sentent bon le je-m'en-foutisme.
Entre les deux, il y a des pochettes réussies, moyennes, mais rarement celles-ci laissent indifférent (ou alors il y a un problème). Il y a des pochettes d'albums pourtant réussis qui sont loin d'être géniales (Chvrches qui a offert en plus un cd minimaliste sans livret, bref déception de ce côté là pour un disque pourtant génial). Une pochette superbe peut illustrer un très mauvais album et inversement des musiques géniales peuvent être desservies par des pochettes hideuses.

Psycho Tropical Berlin, 1er album de La Femme
Certains artistes se sont illustrés dans le passé pour leurs pochettes moyennes, voire systématiquement ratées ou mauvaises (et là le critère de subjectivité peut laisser vite la place à l'absence de doute quand cela est partagé par plus d'une personne). C'est le cas pour R.E.M qui affiche des pochettes toutes pas terribles du tout voire ratées, comme Depeche Mode à une certaine époque (et malheureusement sur leur dernier opus en date). La pochette peut être ratée et la musique réussie (celle de Sophie Ellis-Bextor pour Make a Scene, toutes celles de Franz Ferdinand, sauf la première à la rigueur, celle du premier de Lorde -alors que celle de l'EP est belle-, celle de First Aid Kit alors que celle de leur dernier album est très réussie, etc).
Pendentif
La pochette peut aussi être une sorte de carte de visite, elle peut charmer, enjoliver un visuel, le rendre plus beau, attirant. Et donner donc envie de découvrir un artiste, de se laisser surprendre, surtout sur un premier album. La tendance actuelle tend vers une recherche du minimalisme et le noir et blanc est en ce moment beaucoup trop utilisé  ( à croire qu'il n'y avait que ce choix, jetez juste un oeil sur les récentes sorties françaises et cela vous sautera aux yeux, de Vanessa Paradis à Margaux Avril en passant par Grégoire, Alizée, et d'autres). Il existe mille et un choix possibles et pourtant les pochettes d'albums en noir et blanc se ressemblent toutes (comme celles du black metal).
Editors / The Weight of Your love
Voici une sélection des pochettes d'albums 2013, 25 au total qui valent clairement le coup d'œil et qui ont su marier l'inventivité, la douceur, la recherche picturale et photographique, des idées simples mais réussies, le mélange savant de couleurs et de formes. Bref de grandes réussites plastiques.
Vous ne verrez peut-être pas beaucoup de tops de ce genre cette année, profitons-en.
Cliquez deux fois dessus pour les voir en grand.