« On n'est pas sérieux quand on a 17 ans« . C'est ce qu'écrivait Arthur Rimbaud quand il ne les avait même pas. Ce n'est pas l'âge de nos musiciens, puisqu'ils ont vingt ans et qu'ils passent désormais aux choses sérieuses avec un deuxième EP qui est sorti le 17 février. Un deuxième EP porté par le single Oublie-moi mais aussi Un Mec en Or.
Parisiens, Vickie et Léo se sont rencontrés au lycée et depuis leur aventure musicale se construit et se conjugue à deux. Littéralement. Pour les voix chantées systématiquement en duo et pour le duo qu'ils forment eux-mêmes. Leur musique rappelle un petit peu les ambiances des années 80, on pense en les écoutant à Michel Berger et France Gall, à un son estampillé 80′s par l'utilisation d'un synthé vintage, mais en filigrane, il y a surtout la patte The Pirouettes. Celle de pouvoir et de vouloir faire danser avec leurs propres mots, avec leur imagination et un certain talent d'écriture.
Une écriture qui marie le chaud et le froid, la candeur de certains sentiments, le vertige de l'élan et du désir amoureux, la découverte du plaisir réciproque mais aussi le ton adéquat, le bon mot, la trouvaille de langage comme l'utilisation intelligente du verlan ou du langage parlé utilisé par tous pour parler à tout le monde. Dès les premières notes de Un Mec en or, l'ironie de son ton et en même temps l'expression d'un réel désir amoureux on est fixé : ce disque sera une petite pépite pop, aux accents parfois guillerets mais jamais puérils, celui aussi de l'expression d'une maturité qui ne fait que croître.
De l'aéroport aux USA, en passant par la France, les coups de cœurs, les coups de foudre en général et aussi les incartades, les engueulades qui font la vie d'un couple, ce portrait d'une jeunesse française touche à l'universel par des thématiques simples mais ici croquées avec malice. Le chant en chœur, poussé par le son analogique, la boîte à rythmes et les rythmes eux mêmes, galopants, sautillants, apporte un vent de fraîcheur qui n'est pas sans rappeler ce que font les canadiens ultra doués de Le Couleur sur des titres comme Femme ou Voyage Amoureux.
L'emballement, le rythme échevelé d'un Dernier Métro (qui pourrait être une référence au fameux film de François Truffaut, multi césarisé en 1981), la petite ironie qui se glisse au milieu des paroles légères, cette façon par exemple de raconter comment une fin de soirée peut mal se passer, les prémisses de l'infidélité, l'utilisation des rimes simples, l'utilisation du langage courant comme langue universelle,  avec un léger mélange de franglais, tout cela fait de The Pirouettes un groupe qui s'inscrit dans l'actualité, dans le quotidien, de son couple et de tous les jeunes couples qui forment cette espèce de comédie humaine. Ce passage génial aussi, totalement inattendu, durant lequel le groupe reprend Marcia Baila des Rita Mitsouko. Et d'écouter ces nappes de synthé qui font frétiller l'oreille et provoque une douce euphorie.
On peut rire des choses tristes, faire aussi de même pour les ruptures, s'interroger sur ses propres erreurs, ses propres doutes avec l'esprit de ses vingt ans et une maturité qui grandit au fil des morceaux. C'est le cas pour le très engagé et visuel Robocop  (le maquillage de Vicky et Léo dans le clip Danser dans les boîtes de nuit avait aussi un petit côté Pierrot le Fou de Godard), le troisième morceau qui reprend la chronologie du célèbre flic de Détroit, croqué en 1987 par Paul Verhoeven, un des plus cinéastes les plus provocateurs de son époque, qui a su bousculer les conventions hollywoodiennes, un film qui demeure un classique.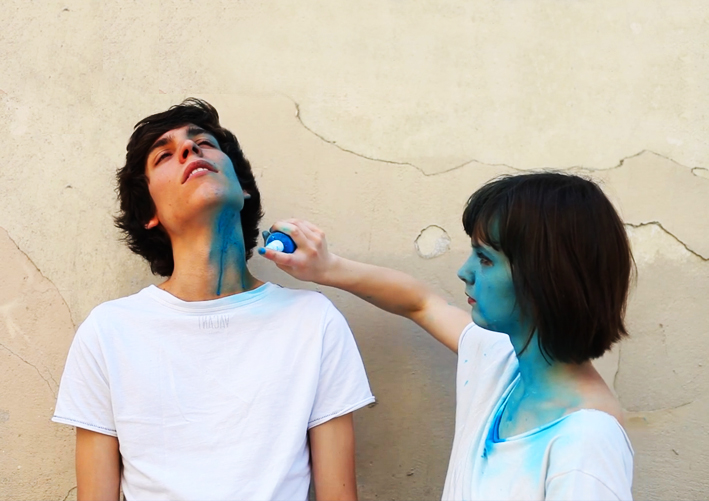 Les soirées, les apparences, se faire connaître, avoir du recul aussi sur sa carrière naissante ou en pleine ascension, les compromis, ce sont les thématiques de Briller comme les étoiles, une des plus belles chansons pop qu'il m'ait été donné entendre depuis des mois. Car c'est cela la force de ce duo juvénile (on peut aussi se délecter de la musique du groupe français du même nom). Ecrire des chansons pop qui entrent dans la tête, composent leur petite mélodie. Trouver les paroles qui consolent. C'est très beau et très simple. Toujours sur fond de synthétiseur, toujours avec le même entrain.
On arrive ensuite à la chanson la plus triste du disque d'une certaine manière. Triste parce qu'elle évoque le sentiment de rupture, celui d'une séparation amoureuse. Mais là encore, la constante joyeuseté de la mélodie et une forme de second degré (« Comme une série à la con ») ramènent aussi à l'idée du fantasme (« Toi et moi dans la tête ça fonctionnait bien »), une forme d'amertume (« Je me dis à tort sûrement qu'il ne te mérite pas »). La voix de Vickie lance alors à répétition ce « Oublie-moi, Oublie-moi, Oublie-moi ». Et les jours de la semaine comme une petite litanie.
L'EP se referme sur une tentative réussie et parfaitement achevée de hip-hop à la française. Toujours sur un son de synthé avec Chantier sous les cocotiers.
Un EP magistral, qui parle du quotidien avec ses mots, son talent propre, à écouter et réécouter, plein de ses petites subtilités, finesses qui font les jolis disques. Ça aurait pu être le titre d'un film de François Truffaut ou Claude Sautet. C'est le disque d'un duo qui n'aime pas qu'on dise de lui qu'il est naïf. Je les comprends . « L'importance des autres » est une pépite pop qui a un sens inné de la mélodie, qui mérite que l'on s'attarde dessus et une belle promotion. Pas étonnant qu'Etienne Daho les ait adoubé (avec entre autres La Femme et Aline). Et un dernier mot sur la pochette : elle est très belle. Et pétille, avec ce noir stellaire et ces couleurs primaires intelligemment mises en valeur.